Injured playes in English Premier League
Very good table with list of injuries and return date which could be used for better soccer tips especially if key players are missing.
After returning most of football players are not in good shape. Every tipster or good punter use this information to do better football predictions.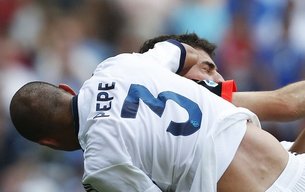 Everton - total injured players: 6
•
A McGeady
- Hamstring Injury , expected return on
no return date
•
D Gibson
- Ankle/Foot Injury , expected return on
8th Aug 15
•
S Pienaar
- Hamstring Injury , expected return on
no return date
•
G Deulofeu
- Hamstring Injury , expected return on
8th Aug 15
•
J McCarthy
- Ankle/Foot Injury , expected return on
no return date
•
M Besic
- Hamstring Injury , expected return on
no return date
Newcastle United - total injured players: 6
•
C Good
- Hip/Thigh Injury , expected return on
no return date
•
E Riviere
- Knee Injury , expected return on
no return date
•
F Coloccini
- Calf/Shin Injury , expected return on
29th Jul 15
•
S Marveaux
- Gilmores Groin , expected return on
14th Sep 15
•
R Cabella
- Hip/Thigh Injury , expected return on
14th Sep 15
•
R Elliott
- Thigh Muscle Strain , expected return on
no return date
Aston Villa - total injured players: 5
•
G Agbonlahor
- Knock , expected return on
1st Aug 15
•
C Gil
- Knock , expected return on
no return date
•
G Gardner
- Ankle/Foot Injury , expected return on
no return date
•
J Okore
- Knee Injury , expected return on
13th Sep 15
•
J Grealish
- Hamstring Injury , expected return on
no return date
Manchester United - total injured players: 5
•
B Schweinsteiger
- Knock , expected return on
8th Aug 15
•
A Lindegaard
- Muscular Injury , expected return on
no return date
•
A Di Maria
- Hamstring Injury , expected return on
no return date
•
J Hernandez
- Broken Collar Bone , expected return on
no return date
•
A Valencia
- Ankle/Foot Injury , expected return on
8th Aug 15
Southampton - total injured players: 4
•
G Ramirez
- Knock , expected return on
no return date
•
F Gardos
- Knee Injury , expected return on
no return date
•
R Bertrand
- Knee Injury , expected return on
23rd Aug 15
•
F Forster
- Knee Injury , expected return on
no return date
Tottenham Hotspur - total injured players: 4
•
A Townsend
- Shoulder Injury , expected return on
8th Aug 15
•
H Lloris
- Broken Wrist (scaphoid) , expected return on
no return date
•
R Mason
- Knee Injury , expected return on
no return date
•
B Davies
- Dislocated Shoulder , expected return on
no return date
Norwich City - total injured players: 3
•
C Jerome
- Ankle/Foot Injury , expected return on
8th Aug 15
•
M Olsson
- Shoulder Injury , expected return on
12th Sep 15
•
K Lafferty
- Knee Injury , expected return on
no return date
Sunderland - total injured players: 3
•
D Graham
- Knock , expected return on
no return date
•
C Wickham
- Knock , expected return on
no return date
•
J Gomez
- Knee Injury , expected return on
13th Sep 15
West Bromwich Albion - total injured players: 3
•
G McAuley
- Calf/Shin Injury , expected return on
no return date
•
C Dawson
- Hip/Thigh Injury , expected return on
31st Jul 15
•
B Foster
- ACL Knee Injury , expected return on
Oct 15
Arsenal - total injured players: 2
•
T Rosicky
- Knee Injury , expected return on
no return date
•
D Welbeck
- Knee Injury , expected return on
16th Aug 15
Bournemouth - total injured players: 2
•
H Arter
- Hip/Thigh Injury , expected return on
no return date
•
A Boruc
- Shoulder Injury , expected return on
no return date
Crystal Palace - total injured players: 2
•
Y Bolasie
- Hamstring Injury , expected return on
1st Aug 15
•
K Appiah
- ACL Knee Injury , expected return on
no return date
Liverpool - total injured players: 2
•
J Flanagan
- Knee Injury , expected return on
Jan 16
•
D Sturridge
- Hip/Thigh Injury , expected return on
Oct 15
Manchester City - total injured players: 2
•
Y Toure
- Head Injury , expected return on
1st Aug 15
•
F Delph
- Hamstring Injury , expected return on
no return date
Leicester City - total injured players: 1
•
M James
- ACL Knee Injury , expected return on
Feb 16
Swansea City - total injured players: 1
•
B Gomis
- Hamstring Injury , expected return on
1st Aug 15
West Ham United - total injured players: 1
•
A Carroll
- MCL Knee Ligament Injury , expected return on
Oct 15
Chelsea - total injured players: 0
•
- , expected return on
Stoke City - total injured players: 0
•
- , expected return on
Watford - total injured players: 0
•
- , expected return on